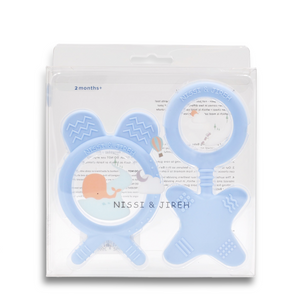 NISSI & JIREH
Soft Silicone Teether Set, Blue
Sale price Price $14.95 Regular price Unit price / per
As a parent, there is nothing worse than watching your little one experience pain and discomfort. Between the sleepless nights and the agonizing cries, teething can be traumatic for caretakers and baby. Nissi & Jireh has designed a revolutionary teether set to ease the discomfort of teething and relieve the pain of aching gums.        
Safe Silicone Design
Constructed from 100% Food Grade Silicone, the Nissi & Jireh Teether Set is completely non-toxic, BPA Free and intended for babies two months and up.
Relief with Resistance
Nissi & Jireh's teethers are made from a pliable silicone, offering a soft and bendable texture, giving baby just the right amount of soothing resistance.
Multiple Soothing Possibilities
Teething relief is fleeting when baby is offered only a singular option. Nissi & Jireh's teethers come in sets of two different shaped designs, each featuring multiple textures targeted to relieve aching gums. The numerous soothing options result in a distracted, entertained and pacified baby.
Designed for Tiny Hands
Both of the included Nissi & Jireh Teethers were fashioned purposely for baby's hands and fingers. Each teether features a ring-shape for easy grasping and independent use.
Easy to Freeze
For extra relief, Nissi & Jireh Teethers can safely be placed in the refrigerator or freezer to add an extra element of cooling relief. Since this set includes two teethers, you can keep one in the freezer while the other is in use.